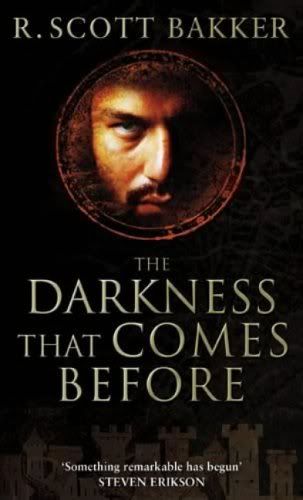 The Darkness That Comes Before
By R. Scott Bakker
When I finished with A Song of Ice and Fire and began to look around for other authors to attempt, three names consistently popped up: Robin Hobb, Steven Erikson, and R. Scott Bakker. Hobb, well, you know my blatant worship and fanboyism regarding her work; Erikson I gave up on after 200'ish pages because of writing style and annoying superman making magic system; and now I have come to the last of that initial blast of recommendations.
The Darkness That Comes Before is a philosophy heavy, intrigue driven exercise in massive world building. There are several POV characters on both sides of a gathering holy war, and the journey to a strange land by a "central" character to seek out his long lost father. In true-to-form new wave of modern fantasy, the lines of good and evil are very grey with the characters. The way things are laid out are kind of a new take on that, as there are clearly defined lines of good and evil, but it's below (or above) how the characters behave. Despite having a relatively downplayed magic system, this book actually gave me my first encounter with real sorcerers in quite a long time.
Bakker is quite obviously a learned man in the ways of thinking, as this book is heavy with philosophy. It's done in a rare way, in that the book is almost dripping with the stuff, yet there is no real "message" that Bakker is beating us over the head with, and I didn't find any of it pretentious as while the "central" character is a "prophet" he never gets preachy. I did, however, have a bit of difficulty getting into the book because of the heavy theme as the prologue, and our introduction to Kellhus (the "central" character) is written almost entirely within the mind of the character with the physical world only peeking its head through a sentence or two in between drawn out thought processes and inner monologue that has more to do with the why than the what. This normally wouldn't bother me, as I read quite a bit of non-fiction that deals with intangibles, but when trying to concentrate on a story and trying to get a feel for who the character is (from a human, not logical, standpoint); such things get in the way. Thankfully, when we get past the prologue and into, about, the first hundred pages, things begin to even out and while we still get a heavy dose of philosophy and inner struggle, we get a nice big world to play in as well. After getting to this point, it almost felt like the prologue was a separate short story that was written to brainstorm the idea of Kellhus, as opposed to a proper beginning.
I keep referring to Kellhus as the "central" character because, except for the prologue, he doesn't show up until more than 300 pages in (out of 570) It is clear that he, and his family, are going to be the driving force of the series, but until he makes his official entrance things belong to the rest of the cast: Emperors, Princes, Barbarians, and Whores. Each told through different POV's in third person limited, as I've become accustomed to in fantasy. All of the characters are interesting, and even though I might not particularly like some of them, I liked reading every one of them. There is a lot of setup in this book for the bigger picture of the series, so there is a lot of talk, and a lot of thinking. All of which was written well, and Bakker has a talent for writing from his characters' minds, the royalty sound pompous and regal even in their heads, and the small-folk are limited in vocabulary and have a much simpler outlook. He has a great flare for verbal conflict, as he is able to write physical communication well. His physical conflict descriptions could use some work, though. There is one major battle in this book, and while it's bloody, violent, and brutal; it's also confusing to follow because Bakker doesn't do the best job of setting the scene up. He tries to throw too much tactical info at you while also trying to portray the emotions of the person he is writing through. Some could say this gives you a realistic feel of a battle; I personally, just found it a pain in the ass to follow.
The world itself is absolutely massive, centered on (what I would describe as) a Mediterranean'esque map during the fall/post-Roman era. Bakker clearly defines the ethnicities of the people in the world and with so many different kingdoms; he manages to adequately differentiate their cultures. The world itself in quite huge, when looking at the provided maps to track a character's movement, I was amazed to see how little ground was covered during a multi-week journey.
As mentioned above, the magic system is pretty downplayed. This minimalist approach combined with the status that the great sorcery "schools" have in the world, and the brief action we see them have in battle, adds a nice level of mystique to how things operate. We're shown that the majority of magic works through incantation and is largely elemental in nature (fire, lightning, etc). The schools are also viewed as heretics by the followers of "The Tusk", the main religion of the world that we're shown. It's very Roman-Catholic in nature with a trinity-like split of one god into multiple aspects, a mythic human manifestation of said god, and one central "pope" figure that essentially has his own city (calling a holy war adds to his Catholic Cred) For how little we see of the magic being used, the one time that the sorcerers do go into battle is really mind-blowing. They blow things up, they fly, and they destroy; giving me my first experience with magical supermen since trying to read Erikson (with a much more positive aftertaste, in my opinion) and the downplaying that happens really does a credit to Bakker's storytelling ability, as it adds even more to that mystique that I mentioned before.
Overall, I definitely view this as a positive reading experience. I'm not going to add this to my favorites, but for something different it was enjoyable, and I will certainly be going back to this series; but it's not a,"I need this NOW!" situation like I was hoping for. I have heard that Bakker's writing ability does get better, and I'm glad to hear that as with some minor improvements in the future volumes I can see how he garners the respect that he does these days.